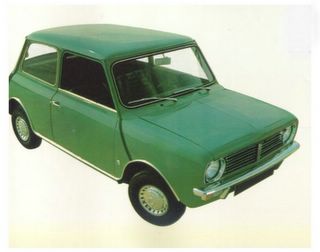 My first car, a turquoise 1970s Mini Clubman was similar to the one in the above photo.
Reproduced below is an article which I recently contributed to asiaone.com.sg. It will help explain the comment by Chris over his 'confusion' about what name to call me. You see, Edmund Khoo is my pen name. You may also access the article from the following URL:
http://motoring.asiaone.com.sg/contri/contri_01_30.html
"My First Car - Mini Clubman
Contributed by: Edmund Khoo
My first car was a Mini Clubman 1000cc which I bought for the princely sum of $5000 in 1979. It was a 'reward' for passing my driving test at my second attempt. I figured that I had to have plenty of real practice driving without the instructor by my side because if I did not, I risked forgetting all my driving skills. I bought a 9-year car instead of a newer one because I felt that a new driver was likely to bend a fender or two, not just of my own car but others too. It was registered in the 1970s and bore an archaic number plate starting with the characters 'EB 173x'.
The car did not have an air-con so I installed a 6-inch sweeping fan. I could not install it on the dashboard because it would obstruct the driver's view so I installed it on the floor in the centre front. My friends used to tease me that my ulterior motive for placing the fan in that strategic location was to blow up the skirt of my female front passengers (à la Marilyn Monroe). This allegation was untrue, of course.
Driving the car in the hot sun gave me a free sauna session, especially on hot sunny days in a traffic jam. It also gave me a free massage because the engine had quite strong vibrations. On rainy days I had to wind up all the windows to keep the rain out. Mist would form on the inside of the windscreen, obscuring my view of the road. I had to use a cloth to wipe the mist off with one hand while holding the steering wheel steady with the other. (Funny how there seemed to be less traffic police those days to catch people for dangerous driving habits like this.)
The car was real low, so much so that you felt like you were almost sitting on the road while driving. But I managed to pretend that I was driving a low-profile sports car. To compound the problem, I was almost 6-ft tall so I must have looked like Mr Bean. (It was fortunate that the 'Mr Bean' character had not been created yet.)
I liked the Mini so much that my second car was also one. Looking back, I have many fond memories of the rusty but trusty little car. I eventually grew out of the fetish and am now happily driving a Toyota Corolla."