The headlines of the 20 Mar 2008 edition of the New Paper reminded me of a recent incident.
On 10 Mar 2008 at 6.05 pm, I was driving home along the inner carriageway of the Jalan Toa Payoh stretch of the PIE. I had just picked up my wife and as there was a light drizzle, the roads were wet. Just as I was passing under the Toa Payoh South Flyover, I noticed a small motorcycle turning out from the filter road from Lorong 1. At first he kept to the left side of the road. But just when I was almost passing him on the right, he suddenly skidded and swerved into the centre of the road. Instinctively, I swerved right and braked hard to try to avoid hitting him. However, there was no way I could have avoided a collision. Next I heard was a loud "BANG!" just as my car ground to a halt on the chevron-markings.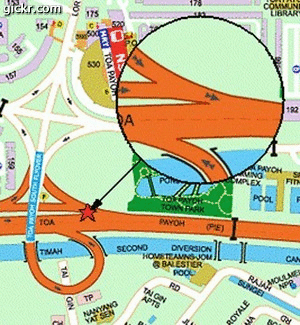 OH NO!!! OH MY GOD!!! From the driver's seat, I couldn't see where the motorcyclist was after the accident. Could he be under my car's wheels? Would there be a lot of blood and gore?

I remained frozen in my car seat for a few moments. When I came to, I finally plucked up enough courage to alight and walk over to the left side of my car. I found the rotund Indian man pinned under his own machine. It was to my great relief when he extended his right hand to me and pleaded, "Help me!"

I helped him get up on his feet. (Boy, did I really thank God when he could!) Other than a slight bruise on his elbow, he was alright and could still walk normally. His wallet and money, including a $50 note, were strewn on the road. I helped him to retrieve them. Then I picked up his motorcycle and pushed it to the safety of the road shoulder.

I told him that he skidded and knocked into me but he said, "No, you were going too fast."

I replied, "But I was going straight and had the right of way whereas you came out from the filter road and should have given way to me."

What he said next surprised me. "Are you going to pay me for the repair of my bike?"

I retorted angrily, "Pay you? But I wasn't in the wrong. Who would pay for my damaged bumper then? Frankly, I am just so very glad that you are not seriously injured. You could have been killed, you know? There is no way I am going to pay you. If you insist, then we report the accident to our insurance companies and let them handle the matter."


He said, "So you are not going to pay me? Okay, never mind, God will know."
With that, we exchanged telephone numbers and we both left the scene.
The next day, I received a call from him. I was expecting another argument.
But he said, "I actually called to
thank you for saving my life
. Sorry, I was not in my right frame of mind yesterday. Perhaps I was a bit groggy from the accident. I realised that I actually skidded. So I will not be reporting the accident to my insurance company. Have a nice day."